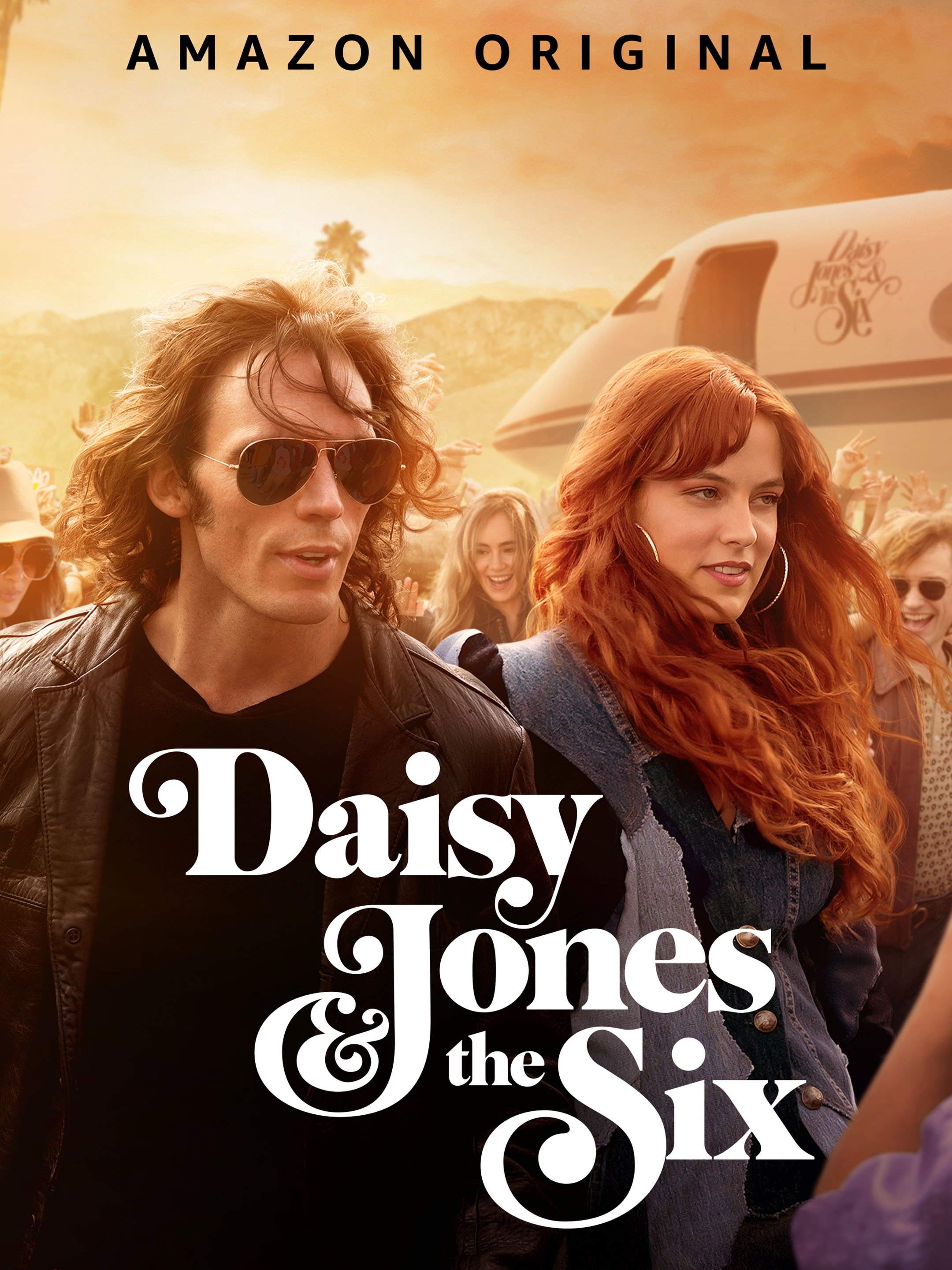 ---
When I first heard about Daisy Jones & the Six, it was after Resse Witherspoon had included it in her book club. Of course, this also put me off a bit because I wasn't sure it would be the right book for me. I had some issues with it but, ultimately, I think it was a really fun read. A lot of that had to do with the format and how original it was. So, I was interested when it was announced that it would be adapted into a show for Prime. It certainly had a lot of potential to be a really good series. However, I've also just read and not enjoyed Carrie Soto Is Back, which made me a little nervous to watch it. Could the show ever live up to my expectations? I took the plunge and watched it this weekend. There are still a couple of episodes to go but I wanted to get some thoughts out.
The whole talking heads thing might seem like a bit of a TV cliche these days but I'm glad that the show kept this feature. It wasn't quite used as well as in the book but there are a few moments when these moments add something to the narrative. Not only does it break up a pretty pedestrian story but it gives added legitimacy. The show has the feel of a real documentary that's exploring the greatest band of the 70s. My only problem is, this isn't the greatest band of the 70s. Nowhere near. I guess it's easier to make a band seem cool on the page when readers are imagining things in their heads. Put these characters on the screen and they have a lot to live up to.
Daisy Jones & the Six are meant to be such a sensation that they change the musical world. The music in the show? It just sounds like a bad Fleetwood Mac cover band. The songs aren't bad but they also don't seem like the kind of songs that would be overnight hits. The lyrics are nothing to write home about. Some of the lines are just ridiculous. This was a problem in the book but the song are fully fleshed out here. Something that highlights how cringe some of them are. Regret Me has some particularly bad moments. In terms of performers, Riley Keough and Sam Claflin are fine. Their harmonies sound nice but are they rock stars? I'm not buying it. The bands of the 70s had something extra to their vocals. Daisy and Billy have a much more contemporary sound. For me, the songs just don't live up to this band's reputation.
In terms of characters, Billy and Daisy are very much like their vocals. They're nice enough but lack edge. I was especially disappointed with Daisy. The book paints her as this irresistible performer who draws you in. I'm missing that. She's like a bad Stevie Nicks impersonator. Billy is just a bit of a dud. The show, more than the books, shows that there are way more interesting people in this band. People who I wish we'd explored more. People like Karen. She didn't get nearly enough to do. Nor does Daisy's friend, Simone. She was a fascinating character we barely got to know. The fact that the series focuses solely on Billy and Daisy means that everything rests on their shoulders. Unfortunately, neither of them is strong enough to carry the weight.
For a book that's so focused on dark themes and the hedonism of the 70s music scene, this series does seem to lack punch. It attempts to show the world of sex, drug and rock n roll that Daisy and the Six get caught up in. Yet, it all feels watered down. Like nobody really believes in what it's selling. There's a duality at work here. It manages to be dark but also lacks edge. There's so many shots of drug taking that it becomes meaningless. It's all for show rather. I'm missing the depth. It's hard to get over the fact that we're watching a contemporary representation of the 1970s. From the soundtrack to the cliched shots of people swigging whisky straight from the bottle before downing a fistful of pills. It's fine but there's a huge gap between what we see on screen and what it would have been like in LA at that time. Perhaps why the series placed the focus more on the love-triangle element? It knows that it can never really showcase a realistic 70s supergroup that changed the face of music. So it turns it into just another tragic love story.
I know that romance was a big part of the book as well but it was all tied up with the music. The music just doesn't play out as it should here. It was always going to be a problem here as it has before. It's always challenging to manufacture fictional musical legends for the screen. You're working back from stardom. We've seen the same problem crop up before and we'll see it again. The problem is, Daisy Jones & the Six just had such big shoes to fill and I just don't think it did. If this series has shown anything, it's that not every popular book needs or should be adapted. Especially as this book was written for television. It already had the structure sorted. It just couldn't live up to the source material. Watching this, I questioned whether I'd misremembered how much I enjoyed it. The book had me gripped. The show left me bored.