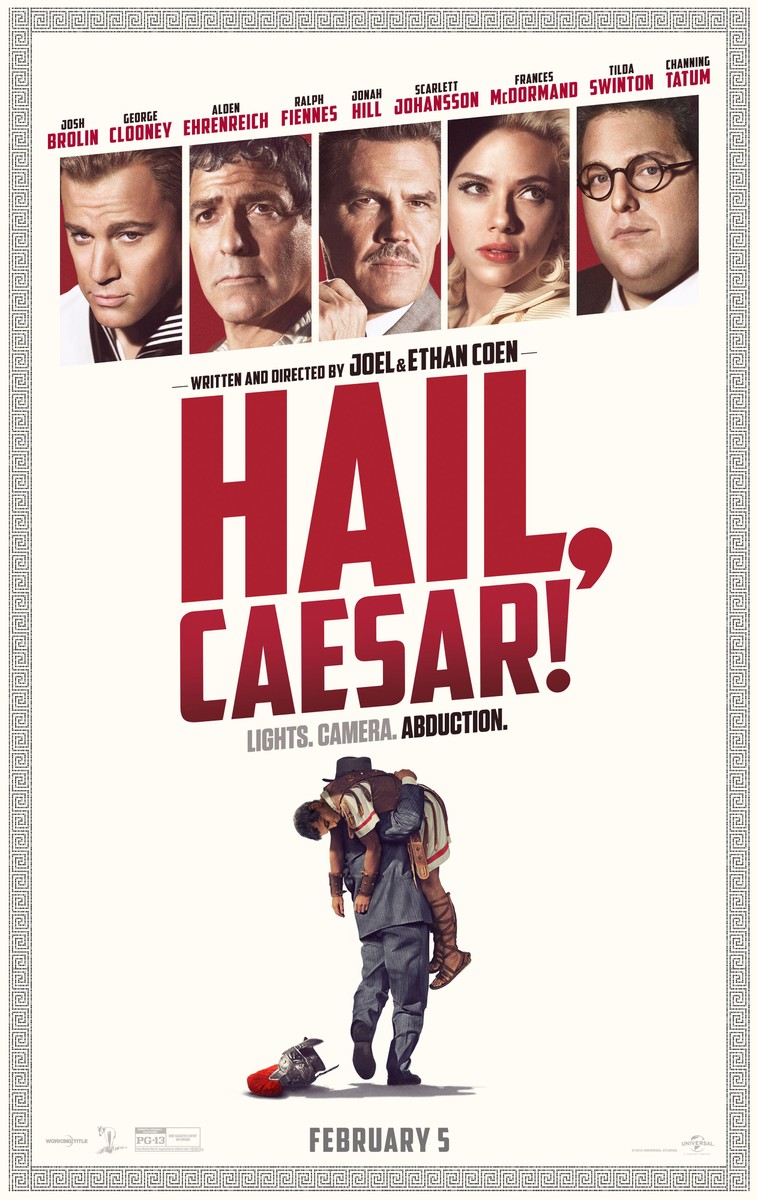 One of the things I have managed to achieve with my week off is to manage to watch the latest release from the Coen brothers. I have generally mixed feelings about them as film makers but would put myself, largely, in the fangirl camp. I argued with my friend over our differing opinions of Inside Llewyn Davies because she's wrong about it being shit and won't see reason. Still, I haven't always found it quite so easy to love them. Either a rewatching is in order or I just didn't understand A Serious Man enough to come out of it feeling inspired. I mean I didn't hate it but I can't say I loved it as much as most people seem to. I mean there were very few reviews for Hail, Caeser! that didn't reference the earlier film. I get the connections between the two but it did have me worried that I could be wrong about my excitement to see it. Still, with such a great line-up of actors and their long time collaborator Roger Deakins on board, I figure it's got to be great, right?

Hail, Caesar! is set in the Hollywood of the 1950s, a time when studios were more concerned with quantity than quality. The Coen brothers have avoided falling into the trap of looking back at this era of filmmaking through rose-tinted glasses. They use their trademark gifts for satire and parod to create a witty yet realistic portrayal of that period of film history. Whilst the pair celebrate everything good about filmmaking, they also cast their critical eye over every aspect of the industry. The egotistical creators and the voracious stars are all based on historical figures and their leading man, Eddie Mannix (Josh Brolin), is based on the real life fixer for MGM from the 1920s onwards. The real Eddie was responsible for ensuring that MGM's image remained family friendly.
Like his real life counterpart, Hail, Caeser! follows studio fixer, Eddie Mannix (Josh Brolin), as he rushes around the lot trying to stop problems before they can create issues for the studio. We first meet Eddie as he is taking the first of a number of confessions and it's clear to see that he is a man struggling to keep his faith in the Lord in line with his faith in the film industry. It quickly becomes evident why Eddie is having doubts about his jobe as the fires that he spends his days extinguishing are morally questionable and outrageous. They can range from tracking down a young actress who has been talked into an illicit photo shoot, arranging for a pregnant star to adopt her own child born out of wedlock, and helping ensure that a country bumpkin Western star is transformed for a period drama.
However, Eddie's biggest stress comes when the studio's biggest star, Baird Whitlock (George Clooney), is abducted from the set of the Roman epic "Hail, Caesar!". Mannix must bring the star back whilst preventing twin gossip columnists (both played by Tilda Swinton) finding out the truth. When he later receives a ransom note, it becomes clear that there is something deeper going on as a mysterious groups called The Future declare responsibility for the crime. Turns out that Baird was kidnapped by a group of angry screenwriters who have become students of Communism and are protesting Captiol studios as a tool of capitalism. Although, don't think that this is the Coen's own protest against Hollywood. The group are ridiculed just as much as the industry they are fighting against.
Really, Hail, Caesar! is a bit of a mishmash of stories and, at times, ends up looking like a good old fashioned revue. The Coens take great pleasure in letting their audience see behind the scenes of the process of film making. They take us through the artificial sets used to create the Roman epic, let us into the editing room to see the film reels, and let us see the frantic exchange between a director (Ralph Fiennes) and an actor who is out of his comfort zone (Alden Ehrenreich). Then they move out of the real world and let us view the final product as they were intended. It is when we see glimpses of the various movies as movies that we can get lost in vintage Hollywood glamour. These moments are engrossing and fabulous but the Coens are, as always, clever about limiting their time. They can't let us have too much of a good thing after all.
It is Brolin who carries the majority of the film and Mannix is a true Coen creation. Almost taking the role of Noir leading man, Eddie is a man with a purpose, a fedora and a lot weighing on his soul. He is also incredibly endearing and thoughtful in the midst of the lunacy of the rich and famous. It is his loyalty to the studio that causes him stress and gives him pleasure. He is lost in the fantasy of that world whilst being the only person keep it grounded. Mannix is the very image of the industry's self-aggrandisement but his alternative faith still leaves him able to question his actions. He is a wonderful creation and Brolin commands the screen in a quietly, brilliant way.
Mannix is the sane one in a sea of idiots but, just like the sullen fixer, these idiots are great at their craft. Alden Ehrenreich as Western star Hobie Doyle shines off the screen as a gymnastic cowboy and, despite her personal troubles, aquatic star DeeAnna Moran (Scarlett Johnansson) is quite the talent. Channing Tatum has the dance skills necessary to prove that his Gene Kelly alike is a worthy talent. Even the dense Baird has the acting chops necessary to pull of the Roman epic of the title. Hail, Caesar! may ridicule many aspects of the supposed Golden Age of cinema but there is a genuine respect beneath the scorn. With their cinematographer, the great Roger Deakins, the pair have recreate the tone and aesthetic of this era and, despite the darker and Noirish undertones, everything is played with a playful touch. The brothers revel in the absurdity of the industry at that time but, with their series of impressive pastiches, celebrate that bygone age. It's not a film for everyone but, if you're a Coen fan, then it's everything you could wish for.