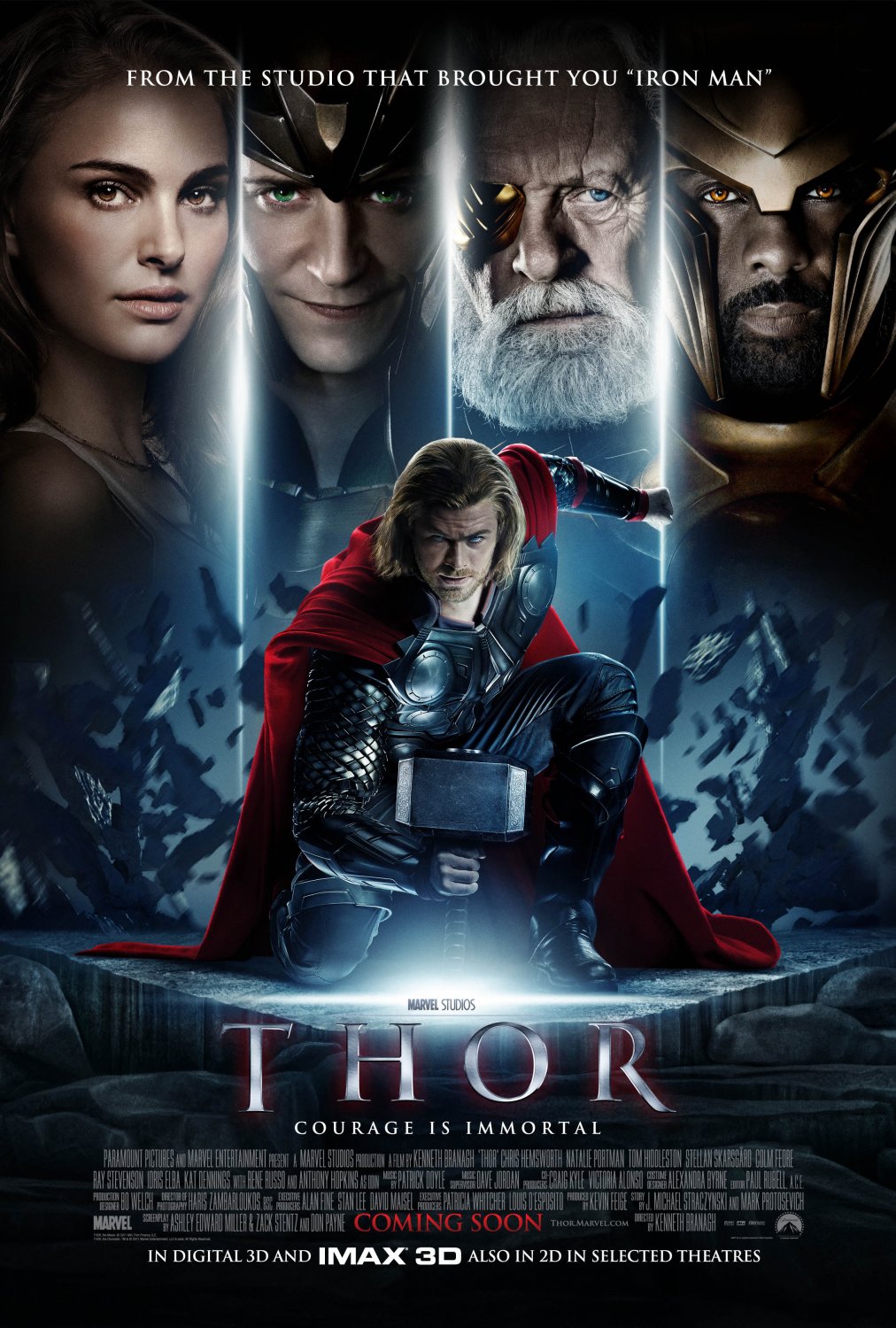 With the release of
Ant-Man
recently we've been preparing ourselves for a new Marvel line-up. We've known for a while that Robert Downey Jr. is out of the door post
Avengers 3
but just how much time awaits his fellow big hitters? Chris Evans is keen to step away from the camera and direct so it seems clear that either
Civil War
will have its comic-book ending or the Cap will meet his maker whilst fighting Thanos. At least when Steve exits the scene we can take comfort in the form of Bucky Barnes. What happens when the contract runs out for everyone's favourite God with the best pair of arms in existence, Thor? I've said several times before that Thor is the Marvel character that I love the most but I can't imagine a situation where the character carries on without Chris Hemsworth. I know that the recent comic-book series has meant that
spoiler
could take his place but it just wouldn't be the same.
According to Rotten Tomatoes
Thor
is the least liked of all of Marvel's superhero debuts. It was closely followed by
Captain America
but, as far as first outings go, Thor didn't really make the best impression. This is something that has always pissed me off because I really liked
Thor
. It's not your typical Marvel movie but it's still fucking enjoyable… and that's only partly to do with Tom Hiddleston. 
Thor
had a big job to do when it first came out. Not only did it have to continue to prep for the upcoming
Avengers
but it also had to introduce movie fans to a wider Marvel universe. A universe made up of nine realms where God's live, play and fight. It could easily have been a huge disaster that was rushed and not at all thought out. Instead, it was a huge blockbuster that provided dazzling visuals, great performances, and plenty of wit.
Directed by dear Kenny Branagh, Thoris played out like a Shakespeare play but with a much spacier locale. Thor is essentially a Shakespearean character so it's fitting that this is the case. We have brotherly jealousy, usurpation, backstabbing, love, and an elderly patriarch/ruler: it has all the trademarks of one of Will's typical plays. It is easiest to see Branagh's Shakespearean touch in the way he presents Loki. It was thanks to Ken that Tom Hiddleston came on board with the film and it was a massive relief that he did. Loki is a complex character who exceeds all expectations. He may be too nuanced for such a massive project as this but Loki certainly made an impression here.
Playing against his strengths, though, makes it feel as Branagh became so caught up in the idea of making a superhero movie that he got carried away with himself. There was huge scope to make the Kingdom of Asgard an amazing spectacle but it all seems a bit too CGI. It's trying to be dazzling and beautiful but there is something cold and unappealing about it. Branagh is a great director when he is given the right material. He tries so hard to get into the spirit of things but the action sequences aren't the greatest and there is a great deal more human drama instead of God vs God fisticuffs. The two major showdowns towards the end of the film are exciting enough but don't really have the same edge-of-your-seat appeal as many of Marvel's other offerings. Of course, in a lot of ways Thor doesn't need to compete with the Marvel films that came before and after it. It had a simple task to complete: namely to introduce us to the first son of Asgard before he was needed to join Nick Fury's dream team. Chris Hemsworth is the perfect Thor in terms of looks and, in some of the films comical moments, plays the fish-out-of-water part to great effect. You could tell from this film that he would warm into the role and he really has.
I can admit that Thor isn't the best film that Marvel has ever made. We know there are mistakes there and things we all wish had been done differently. What it does possess is a sense of fun and entertainment that runs through the entire thing. With Kat Dennings as Jane Foster's sassy sidekick and the very premise of a Nordic God making his way through modern day New Mexico, there is a lot of wit on display. It isn't afraid to make fun of itself and that is something to appreciate. It also contains a badass, eye-patch wearing Anthony Hopkins. How can anyone not say this is their favourite Marvel film?