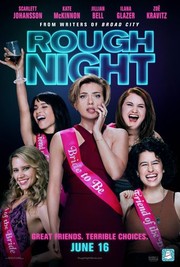 There's a lot to be said for my love of Kate McKinnon. I was almost 100% sure that I didn't want to ever watch Rough Night but every time I saw the trailer I couldn't help but think "Kate McKinnon though…". So I decided to just go with it. Best case scenario: it'd be the new Bridesmaids. Worst case scenario: well, I've seen both of the Sex and the City movie and it's got to be better than that, right? Don't even ask me how that happened but it did. When you've seen those films and Mama Mia it becomes really difficult to imagine a film that I can hate quite as much. With every second of SATC2, each cell in my body started to shrink into itself out of anger and embarrassment; embarrassment for the people who made it, the people who liked it and for me, for making the decision to watch it. The good thing about writing this blog over the years is that I have a different range for what is good and bad. It's like studying novels of sensibility during my Masters degree. I suddenly found a new appreciation for all of the books I thought were rubbish because they all had something more than just countless stupid young women fainting at the slightest sound. Once again, provided nobody in Rough Night fainted in the arms of their creepy uncle/step father then this definitely wouldn't be the worst story I've ever experienced. So that's something.

For one moment back in 2011 it seemed as though the world was finally ready to accept that women deserved to be given the chance to be a outrageously funny as men. As though everyone else was as sick of seeing the guys from films like The Hangover get into drunken capers and were as desperate to let the ladies have a go. Unfortunately, the change never really happened and the path towards gender equality in terms of comedy films has been a slow and painful one. It's not as if people haven't tried. Hell, Paul Feig is and Melissa McCarthy are trying desperately to make the raunchy female lead comedy land. It hasn't quite worked in the way we wanted. Look at the internet's reaction to a female only Ghostbusters for fuck's sake. Clearly, that glass ceiling is still as thick as ever.
But that doesn't mean Hollywood isn't willing to give these types of films as chance when they arise. The latest is Rough Night from the writers of Broad City and boasts a great cast of female talent. It is also, in its basic form, like a female reworking of the 1998 Jon Favreau film Very Bad Things with a slight hint of The Hangover. A while ago I read a comment on the internet, probably YouTube, that was basically an outcry from some guy about remaking Very Bad Things with women. Now I can just about get that people were worried about Ghostbusters because it's such a classic. But Very Bad Things? Nobody is worrying about that reputation being ruined. I mean it's not exactly gone down in cinematic history. Who's thinking "oh, I vividly remember watching Very Bad Things for the first time and don't want my important memories to be destroyed"? Yeah, no one.
But, as it happens, Rough Night actually builds on the Very Bad Things legacy by being forgettably bad. The film is set around one night on the bachelorette party of wannabe Senator Jess (Scarlett Johansson). It is being planned by her college roommate Alice (Jillian Bell) who is feeling neglected by her old friend. Joining the pair are their fellow college friends, Blair (Zoë Kravitz) and Frankie (Ilana Glazer), who are battling with their messy romantic past as well as problems in their current lives. A random element turns up in the shape of a woman Jess befriended during a year studying in Australia. Pippa (Kate McKinnon) is a bit of a weirdo and instantly puts Alice's nose out of joint by appearing to be much closer to the bride-to-be. After a night of cocaine, drinking and choreographed dance routines, the group return to the house they've rented to carry on the fun. Blair orders Jess a stripper but, a ridiculous accident, causes his untimely death. The ladies are then left with a body on their hands.
From the outset, Rough Night is desperate to prove that these women are ready to party and there is no underlying sense of judgement going on. The women are all allowed to enjoy their night out without the audience getting the feeling that it's wrong. It also helps that the characters naturally fit together on screen. Their attempts at typical lad banter feels more natural than it does in a lot of these types of films. Rough Night isn't a terrible film and there are plenty of funny moments. However, most of these moments are the smaller, throwaway gags that get lost in the mess. The rest of that mess is catered to specific criteria set about for commercial purposes. There is the generic slapstick silliness from the trailer and the cringey attempts to bring big laughs to all the idiots that are rushing out to see this film. It's mostly just a big miss and the best moments are brushed aside for supposedly "guaranteed" laughs.
Rough Night isn't the worst movie of this type around and, thanks mostly to the cast, manages to create some positive and memorable moments. However, it is a film that is clearly at odds with itself. It is written by clever writers who know how to bring the humour out of weirdness and stars actors willing to get a bit freaky. However, it ends up playing too close to the stereotypical humour of these R rated comedies. It's a bit too big and brash to really work completely. Everyone is working overtime to make it come together but it's a runaway train of outrageous comedy. As the narrative moves forward and more insane subplots keep popping up it just gets out of hand. Rough Night is trying so hard to be The Hangover that it's forgotten the heart that made Bridesmaids so appealing. It's so annoying in it's desperation to appeal to everyone that is forgets to be funny or sweet. Although, there are some positives to take away. Most notably the relationship between Blair and Frankie, which is played out more naturally than most same-sex romances you see on screen anymore. This film could have been good had it focused a bit more on emotions and character than on trying to compete with the guys.