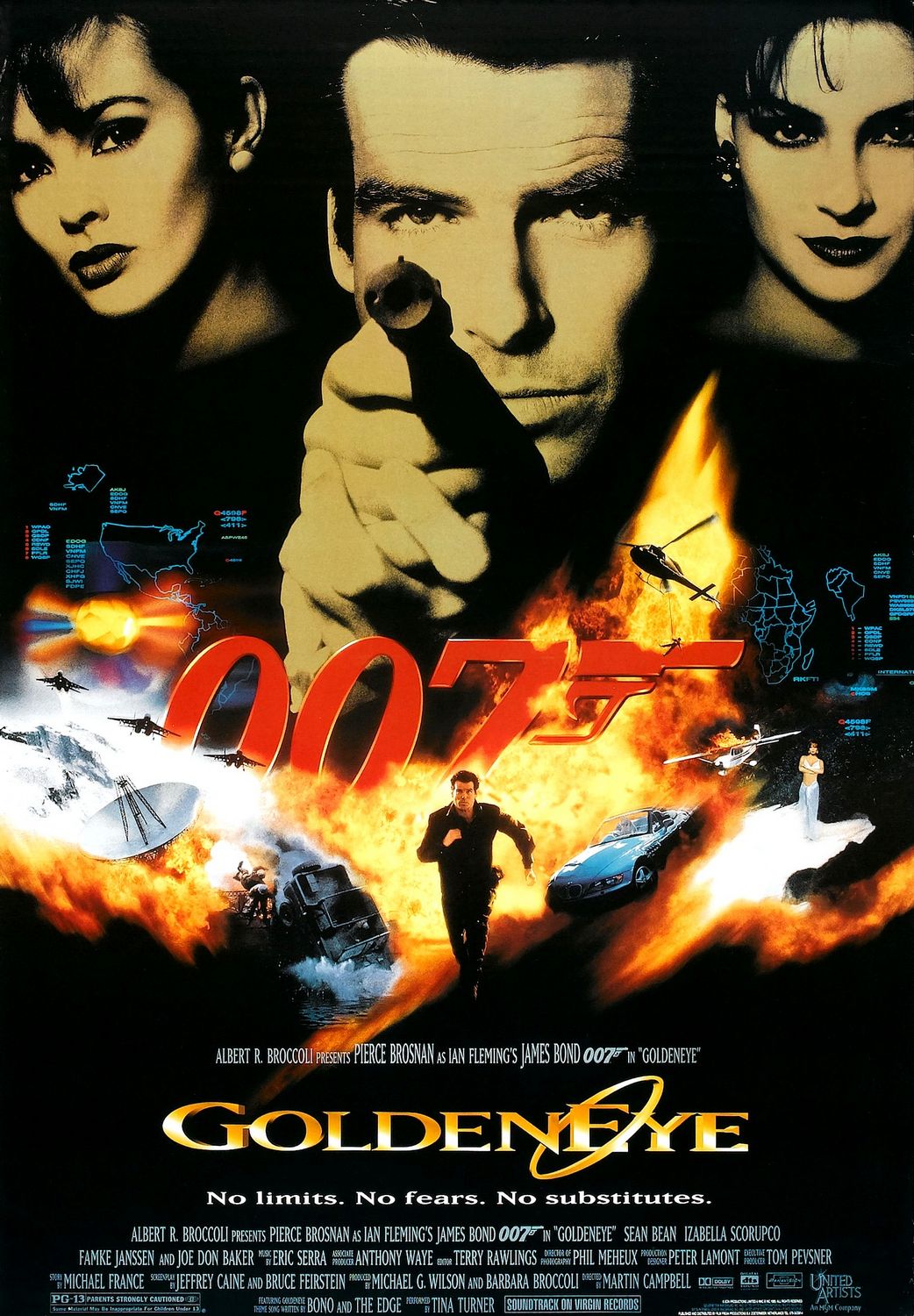 On Monday I'm finally going to get to see Spectre. I know there have been a few dodgy reviews but I always love a Bond film. It comes back to those lazy weekends as a kid where I had nothing to do but watch Roger Moore on his hover-gondola. Younger me loved James Bond because it was silly and camp. Twenty years ago this week the James Bond franchise changed completely. Pierce Brosnan stepped into the role and helped create one of the best bond films of all fucking time. That's quite a bold statement and part of me does worry my love of the game is clouding my judgement. However, there is no denying that Goldeneye took the womanising, drunk spy in a more modern direction. Without it we wouldn't have ever met Daniel Craig's brooding and parkour-ing 007.

If nothing else, Goldeneye starts with a bang and doesn't let up until the end credits role. We first see Bond as he traverses down a dam and uses a laser to cut his way in to a Russian munitions factory. Literally catching the enemy with their pants down, James reappears in a toilet cubical where he takes out a henchmen with as many raised eyebrows and sassy quips that you'd expect. This is Bond as you know him but just bigger.
Goldeneye's plot involves a mysterious entity, Janus, taking control of a weapon that emits a deadly electromagnetic pulse onto any chosen target. In order to get to Janus, James must battle his deadly female sidekick, Xenia Onatopp, with thighs that are more than capable of crushing a man to death. Of course it's not that simple: turns out the mission has a deeper personal meaning for James as a Russian Colonel who is mixed up in the scheme was responsible for killing a fellow agent 15 years earlier.
There are all the trappings of classic Bond here despite the fact that this is the first script written completely independently from Ian Fleming's novels. The gadgets come into play in a timely fashion, the girls are still creepily obsessed with the creepy lothario, the baddies take part in an overly complicated plan, and plenty of people die. It'll keep everyone who knows the formula happy enough. Just keep ticking off that checklist.

Goldeneye, however, appears to be in on the joke this time though. The whole affair is very tongue-in-cheek and every line is said with a knowing wink. The script is littered with subtle references to the Bond tropes that have become famous. The franchise helped Roger Ebert create the term Talking Killer but he is only visible here in a throwaway line about "proper sinister interrogation". Goldeneye is aware of where it came from but it's going to make damn sure you know it's understands how silly things were getting.
So when Bond changed faces he also changed attitudes. Still the incessant womaniser but one with some amount of emotional depth. The scene where James and his latest squeeze have some quiet thinking time on a beach in the Carribbean is one of the cheesiest things you'll ever see but it's also not the kind of thing you'd see in pre-Bronhom Bond. He kills people for a living but don't think for one second that he's not fucking upset about it.
Our 1995 Bond also gets a bit more resistance from the female population. There have always been attempts to give James a strong female cohort but it wasn't until Judi Dench stepped into the role of M that things got fucking serious. M wastes no time in telling Bond that exactly what she thinks of him and that his bullshit won't wash with her. Judi Dench is by far the greatest fucking thing that happened to this franchise. I'm still recovering from her Skyfall departure.
M's first encounter with Bond on screen shows her telling him he's "a sexist, misogynist dinosaur". That was becoming painfully clear by 1989's Licence to Kill. Goldeneye went some way towards rebranding the man without losing any of what made him so compelling in the first place. I have no shame in admitting that Bronhom is my favourite Bond because he has the most fun with it. He knows what he has to do and just goes with it. I also have no trouble admitting that he's nowhere near being the best.
Goldeneye is a great spectacle but it's not necessarily a great film. It gives you everything you need from a spy film and all the traditions you need for a 007 film. The stunts are as spectacular as you'd want and the plot as outrageous as possible. This film holds an important place in James Bond history. And that's not just because of the fucking awesome tank chase through St. Petersburg.