Number of books read: 7
Number of rereads: 0
Number of physical books: 4
Number of ebooks: 0
Number of audiobooks: 3
Number of ARCS: 0
5* reviews: 2
4.5* reviews: 0
4* reviews:
January was a weird month. The first part seemed super quick. The middle seemed both too quick and too slow. The final part was just excruciatingly slow. Basically, I don't know really know what day it is and I'm glad the sorry month is over. Hopefully, 2023 is only going to get better. In terms of reading, I didn't manage to beat last January's count but I didn't do too bad considering everything that's been going on. I also read a fair few books that I've been meaning to read for ages, so that's a big win.
LESS IS LOST BY ANDREW SEAN GREER
Synopsis:
For Arthur Less, life is going surprisingly well: he is a moderately accomplished novelist in a steady relationship with his partner, Freddy Pelu. But nothing lasts: the death of an old lover and a sudden financial crisis has Less running away from his problems yet again as he accepts a series of literary gigs that send him on a zigzagging adventure across the US.

Less roves across the 'Mild Mild West', through the South and to his mid-Atlantic birthplace, with an ever-changing posse of writerly characters and his trusty duo – a human-like black pug, Dolly, and a rusty camper van nicknamed Rosina. He grows a handlebar mustache, ditches his signature gray suit, and disguises himself in the bolero-and-cowboy-hat costume of a true 'Unitedstatesian'… with varying levels of success, as he continues to be mistaken for either a Dutchman, the wrong writer, or, worst of all, a 'bad gay'.

We cannot, however, escape ourselves – even across deserts, bayous, and coastlines. From his estranged father and strained relationship with Freddy, to the reckoning he experiences in confronting his privilege, Arthur Less must eventually face his personal demons. With all of the irrepressible wit and musicality that made Less a bestselling, Pulitzer Prize-winning, must-read breakout book, Less Is Lost is a profound and joyous novel about the enigma of life, the riddle of love, and the stories we tell along the way.
Read my review.
Synopsis:
Few mere mortals have ever embarked on such bold and heart-stirring adventures, overcome myriad monstrous perils, or outwitted scheming vengeful gods, quite as stylishly and triumphantly as Greek heroes.
In this companion to his best-selling Mythos, Stephen Fry brilliantly retells these dramatic, funny, tragic and timeless tales.
Join Jason aboard the Argo as he quests for the Golden Fleece. See Atalanta – who was raised by bears – outrun any man before being tricked with golden apples. Witness wily Oedipus solve the riddle of the Sphinx and discover how Bellerophon captures the winged horse Pegasus to help him slay the monster Chimera.
Filled with white-knuckle chases and battles, impossible puzzles and riddles, acts of base cowardice and real bravery, not to mention murders and selfless sacrifices, Heroes is the story of what we mortals are truly capable of – at our worst and our very best.
Read my review.
Synopsis:
'Troy. The most marvellous kingdom in all the world. The Jewel of the Aegean. Glittering Ilion, the city that rose and fell not once but twice . . .'
When Helen, the beautiful Greek queen, is kidnapped by the Trojan prince Paris, the most legendary war of all time begins.
Watch in awe as a thousand ships are launched against the great city of Troy.
Feel the fury of the battleground as the Trojans stand resolutely against Greek might for an entire decade.
And witness the epic climax – the wooden horse, delivered to the city of Troy in a masterclass of deception by the Greeks . . .
In Stephen Fry's exceptional retelling of our greatest story, TROY will transport you to the depths of ancient Greece and beyond.
Read my review.
THE SECRET LIVES OF CHURCH LADIES BY DEESHA PHILYAW
Synopsis:
The Secret Lives of Church Ladies explores the raw and tender places where Black women and girls dare to follow their desires, and pursue a momentary reprieve from being good.
There is fourteen-year-old Jael, who nurses a crush on the preacher's wife; the mother who bakes a sublime peach cobbler every Monday for her date with the married Pastor; and Eula and Caroletta, single childhood friends who seek solace in each other's arms every New Year's Eve.
With their secret longings, new love, and forbidden affairs, these church ladies are as seductive as they want to be, as vulnerable as they need to be, as unfaithful and unrepentant as they care to be – and as free as they deserve to be.
Read my review.
THE STARLESS SEA BY ERIN MORGENSTERN
Synopsis:
We are all stardust and stories…
When Zachary Rawlins stumbles across a mysterious book containing details from his own life among its pages, it leads him on a quest unlike any other.
Following the clues inside, he is guided to a masquerade ball, a dangerous secret club, and finally to an ancient library hidden far beneath the surface of the earth. What Zachary finds in this curious place is more than just a buried home for books and their guardians – it is a place of lost cities and seas, lovers who pass notes across time, and of stories whispered by the dead.
But when the library is threatened, Zachary must race through its twisting tunnels and sweetly soaked shores, searching for the end of his story.
Read my review.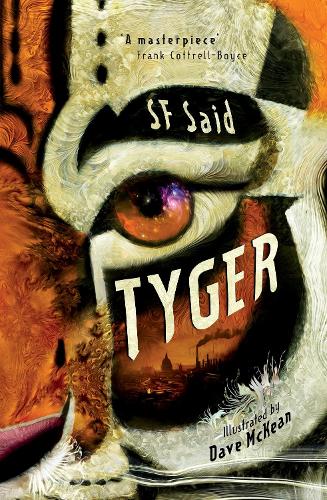 TYGER BY SF SAID
Synopsis:
'There are three doors that I may show you. You will find a different kind of power behind each one …'
Adam has found something incredible in a rubbish dump in London. A mysterious, mythical, magical animal. A TYGER.
And the tyger is in danger.
Adam and his friend Zadie are determined to help, but it isn't just the tyger's life at stake. Their whole world is on the verge of destruction. Can they learn to use their powers before it's too late?
Review coming soon.
THIS IS HOW YOU LOSE THE TIME WAR BY AMAL EL-MOHTAR AND MAX GLADSTONE
TBC
Synopsis:
Among the ashes of a dying world, an agent of the Commandant finds a letter. It reads: Burn before reading.
Thus begins an unlikely correspondence between two rival agents hellbent on securing the best possible future for their warring factions. Now, what began as a taunt, a battlefield boast, grows into something more. Something epic. Something romantic. Something that could change the past and the future.
Except the discovery of their bond would mean death for each of them. There's still a war going on, after all. And someone has to win that war. That's how war works. Right?
Review coming soon.