I've fallen behind on my reviews of late what with Christmas and New Year. So, in order to get everything sorted, I'm just going to do some quick reviews of my most recent reads. I also don't really have the energy to do much else at the moment. That first week back at work has been a killer and I've not felt great. I'll be back on track soon.
Cinderella Goes to the Morgue by Nancy Spain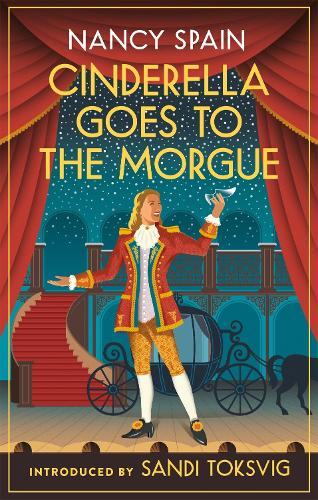 It should be fairly obvious why I picked this book up. I mean that title sounds like an awful lot of fun. I was expecting some kind of silly murder mystery set during a pantomime. Strictly speaking, this was a murder mystery set during a pantomime but this book wasn't as silly as I was hoping for. In fact, it was pretty long and drawn out.
It's not that this book isn't fun in its own way but it just has a problem with pacing. The humour and the language seem very dated even though Nancy Spain was writing in the 50s. I just didn't really get on board with the story. I kept expecting something exciting to happen but it was played much straighter than I assumed. There was a lot of stuff going on around the murder mystery that I found myself forgetting about it. The murders never seemed like the prominent part of the novel.
Ultimately, this isn't a bad book and I could see why people enjoy it. I guess that it just wasn't what I was expecting. I might try again next Christmas and not listen to the audiobook.
The Christmas Murder Game by Alexandra Benedict
My first read of the year was another Christmas murder mystery. My expectations for this book weren't as high as for Nancy Spain but I was hoping it would at least be a read that didn't require much effort. It sounded like every other contemporary thriller and I assumed that I'd guess whodunnit quite early on. I did but, in my defence, it was super easy to see what was going on. I don't know what it is about writers these days but they don't even try to cover their tracks.
I will admit that this one tried to be clever by bringing in a riddle-solving element but it wasn't enough to make up for a lacklustre plot. It's a book that manages to be too simple and too complex at the same time. I guess that's something to praise it for. The narrative didn't exactly drag but definitely went on longer than it needed to. Especially as it didn't really have a lot of character development. Or plot for that matter. I'm quite impressed that Alexandra Benedict could keep it going for so long when so little actually happened.
Although a lot of it was down to setting up the story. There is so much context and exposition that it really takes away the tension. Yet, it's a book that seems to think it's really clever. I will say that the idea of the clues had potential but the reader has no way of discovering the answer themselves. So a potential source of engagement is lost and you end up as a passive spectator who is getting more and more bored.
Danny the Champion of the World by Road Dahl
My final read of 2021 was a reread of one of my childhood favourites. I know that this isn't one of Dahl's most popular books because it doesn't have any fantastical elements. However, I always enjoyed this one. I can't say why I enjoyed it so much as a kid but I expect it was probably something to do with the pheasants falling out of trees. Now, I have to say that I love how grounded this book is. I think it makes such a change from the rest of Dahl's books but has so many familiar touches.
For one thing, his books always make a mention of the brilliance of children. Danny is a clever child who gets the better of so many adults. He is the brains behind the scheme and he is the one to help his father. The book also has its fair share of silliness and is a lot of fun to read. I guess you could argue that it hasn't aged as well as the others but I think the subject matter can still be relevant. After all, the main theme of the story is the relationship between father and son.
This is a book that really lets Dahl's writing take centre stage. You get a real sense of his style and his use of language. I'm not saying that you can't see this in his other books but it can often be masked by the sillier elements of the books. Danny the Champion of the World has a sophistication and maturity about it. I think it's glorious.