What a stressful way to end the year. As interesting as this reading challenge has been, I can't say that I'm planning on doing anything like this again. The time between Christmas should be about eating and sleeping. Instead, I was panicking about finding books to read to cross off the letters I still needed. Still, I just about managed it and now I'm looking forward to reading whatever I want next year.
D
Danny the Champion of the World by Roald Dahl
Book 10 of the month.
Synopsis:
Danny lives in a caravan with his father, the most marvellous and exciting father any boy ever had.
All the land around them belongs to Mr Victor Hazell, a rich snob with a great glistening beery face and tiny piggy eyes. Nobody likes him, not one-little bit.
So one day, Danny and his father concoct a daring plot that will give the old blue-faced baboon Victor Hazell the greatest shock of his life – so long as they don't get caught …
Review coming soon.
E
Escape Room by Christopher Edge
Book 5 of the month.
Synopsis:
When twelve-year-old Ami arrives at The Escape, she thinks it's just a game – the ultimate escape room with puzzles and challenges to beat before time runs out. Meeting her teammates, Adjoa, Ibrahim, Oscar and Min, Ami learns from the Host that they have been chosen to save the world and they must work together to find the Answer. But as he locks them inside the first room, they quickly realise this is no ordinary game.
From a cavernous library of dust to an ancient Mayan tomb, a deserted shopping mall stalked by extinct animals to the command module of a spaceship heading to Mars, the perils of The Escape seem endless. Can Ami and her friends find the Answer before it's too late?
The latest mind-blowing novel from award-winning author Christopher Edge, Escape Room is a thrilling adventure that challenges readers to think about what they've done to save the world today.
Copy received from NetGalley.
Read my review.
C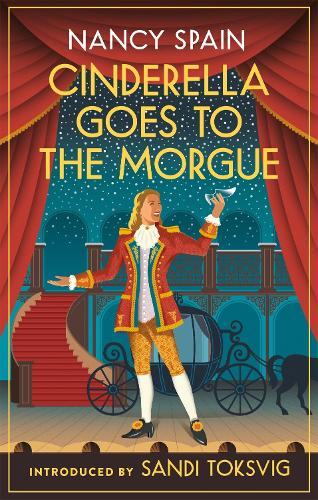 Cinderella Goes to the Morgue by Nancy Spain
Book 6 of the month.
Synopsis:
'Her detective novels are hilarious – less about detecting than delighting, with absurd farce and a wonderful turn of phrase . . . Nancy Spain was bold, she was brave, she was funny, she was feisty. I owe her a great deal' Sandi Toksvig
When Prince Charming is murdered and the principal dancer hits the bottle, amateur sleuths Miriam Birdseye and Natasha Nevkorina come to the rescue. Sacrificing their Christmas plans for the sake of art and detecting, they join the pantomime. As ex-thespians, they know the show must go on – though the cast shrinks with each rehearsal. Can the indomitable detective duo discover the murderer before the final curtain falls?
Fast paced and festive, this comic crime classic from Nancy Spain will keep you on the edge of your seat.
Review coming soon.
E
An English Murder by Cyril hare
Book 2 of the month.
Synopsis:
The snow is thick, the phone line is down, and no one is getting in or out of Warbeck Hall. With friends and family gathered round the fire, all should be set for a perfect Christmas, but as the bells chime midnight, a mysterious murder takes place.

Who can be responsible? The scorned young lover? The lord's passed-over cousin? The social climbing politician's wife? The Czech history professor? The obsequious butler? And perhaps the real question is: can any of them survive long enough to tell the tale?
Read my review.
M
The Magic Finger by Roald Dahl
Book 8 of the month.
Synopsis:
What happens when the hunter becomes the hunted?
To the Gregg family, hunting is just plain fun. To the girl who lives next door, it's just plain horrible. She tries to be polite. She tries to talk them out of it, but the Greggs only laugh at her. Then one day the Greggs go too far, and the little girl turns her Magic Finger on them. When she's very, very angry, the little girl's Magic Finger takes over. She really can't control it, and now it's turned the Greggs into birds! Before they know it, the Greggs are living in a nest, and that's just the beginning of their problems…
Review coming soon.
B
A Boy Called Christmas by Matt Haig
Book 1 of the month.
Synopsis:
You are about to listen to the true story of Father Christmas. It is a story that proves that nothing is impossible. If you are one of those people who believe that some things are impossible, you should put this book down right away. It is most certainly not for you. Because this audiobook is full of impossible things. Are you still reading? Good. Then let us begin….
A Boy Called Christmas is a tale of adventure, snow, kidnapping, elves, more snow, and an 11-year-old boy called Nikolas, who isn't afraid to believe in magic. From the winner of The Smarties Book Prize and the Blue Peter Book Award. With illustrations by Chris Mould.
Read my review.
E
Esio Trot by Roald Dahl
Book 9 of the month.
Synopsis:
An ancient spell, 140 tortoises, and a little bit of magic…
Mr. Hoppy is in love with his neighbor, Mrs. Silver; but she is in love with someone else—Alfie, her pet tortoise. With all her attention focused on Alfie, Mrs. Silver doesn't even know Mr. Hoppy is alive. And Mr. Hoppy is too shy to even ask Mrs. Silver over for tea. Then one day Mr. Hoppy comes up with a brilliant idea to get Mrs. Silver's attention. If Mr. Hoppy's plan works, Mrs. Silver will certainly fall in love with him. After all, everyone knows the way to a woman's heart is through her tortoise.
Review coming soon.
R
The Robin and the Reindeer by Rosa Bailey
Book 4 of the month.
Synopsis:
A little reindeer, lost in the forest … and a robin, who will help her fly home; this is a gift book for children and parents to treasure. Little Reindeer is lost in the forest. It begins to snow. And as the snowflakes crowd through the trees, she catches a glimpse of something: a flash of startling red and wings blurring in the air. A robin! In a piece of woodland magic, the generous robin lends the red from his feathers to Little Reindeer's nose, and they fly home together. A perfect gift book for the winter season, with a gorgeous foiled and textured cover. For anyone who loves The Snowman by Raymond Briggs, or The Fox and the Star by Coralie Bickford-Smith.
Read my review.