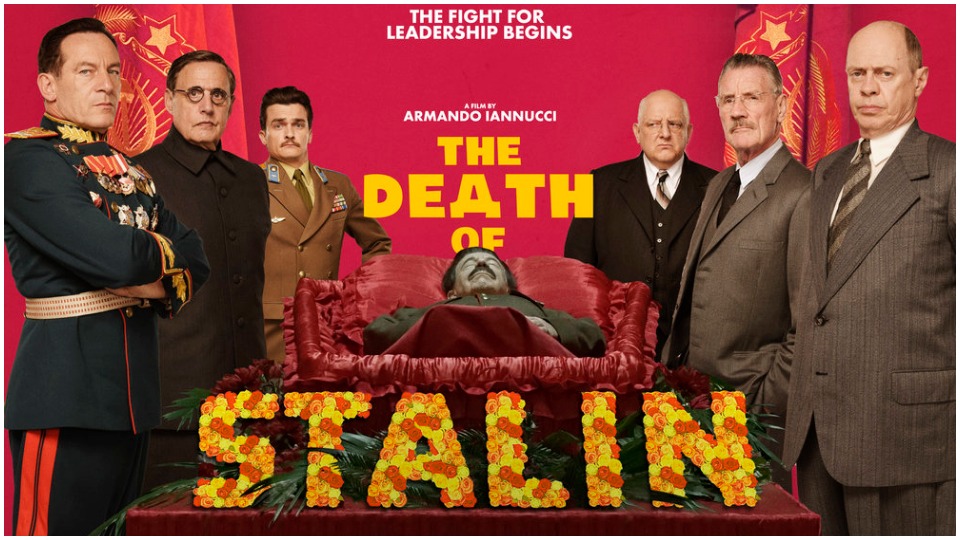 There was a point yesterday when I wasn't sure that I'd get a chance to write this review. We had a power cut at about 5 o'clock in the evening and it made everything a bit difficult. For one thing, I had to use my mobile as a hotspot to finish my work for the day, which was a nightmare. For another, I hadn't actually watched my TBT film for this week. The last few weeks have been pretty stressful and I've just been a bit off. Thankfully, my internet came back and I was able to get everything done. Except write the review, which I'm having to do quite late on Wednesday night in the knowledge that I have to get up early for medical appointment. Part of me just wants to forget it but I don't want to start setting that precedent for myself.
After watching Armando Iannuci's adaptation of David Copperfield for Tuesday, there really was only one film that I could watch today. I'd never seen The Death of Stalin when it was released but it has such a great reputation. And why wouldn't it? If anyone was capable of making a really funny political farce then it's Iannucci. I admit that my knowledge of Russian history is lacking. It's basically limited to the two Greats and little bits and bobs along the way. Although, even with a lack of knowledge on the subject, I do know that Stalinist Russia wasn't exactly known for its comic potential. Of course, that was never going to stop Iannucci.
Of course, it does help that he has assembled a great cast of funny people. Jeffrey Tambor's, Steve Buscemi's, and Michael Palin are all on fantastically funny form as weasley Russians looking to gain power. Then there's the almost revelatory turn of Jason Isaacs as a booming and brash General with a Yorkshire accent. It's not the kind of thing that you'd expect but it works. This whole thing just feels so well-judged. This is a society in which the little things matter. Suddenly every word, movement or joke becomes incredibly important. It's life or death. The dialogue has been written so carefully and there is such a great attention to detail. It's the kind of thing that deserved a top notch cast and it certainly got one.
The Death of Stalin is certainly a funny film and will have you tittering away. However, it never makes light of the past. Whatever might be happening on screen, there is an overriding sense of danger. Even the most harmless and farcical moments are tense. Take the opening scenes in which a desperate Paddy Considine has to restage a concert that Joseph has requested a copy of. The concert was broadcast live when the great dictator made his request but, as it turns out, the orchestra wasn't recorded. The scrabbling that takes place to prevent everyone from leaving is funny but underneath it all is the threat of what would happen if the recording couldn't be carried out.
This is a film that perfectly marries the humour with the realistic terror. To counteract with all of the buffoonery on screen, Simon Russell Beale takes charge as a power hungry and vile monster. He's got an itchy trigger finger and is just waiting for the moment that he can seize control. On the one hand, you don't want to watch the awful things he gets up to but, on the other, you can't look away. This was a film that was sold as being a straight up comedy but it is so much more complex than that. It is nuanced and clever. The Death of Stalin isn't afraid to kill the jokes to get to a darker point and it makes the whole thing more powerful.