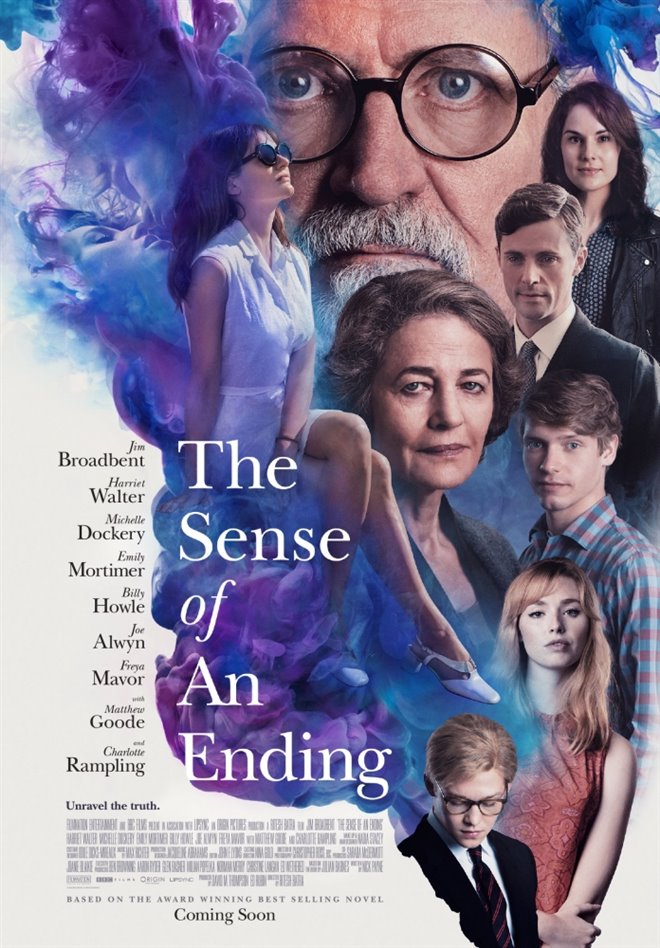 Despite all of my best efforts I am still without a computer of my own. Not, I would like to point out, because of my limited skills but because of the postal service. I am awaiting an important component to arrive before I attempt to revive my busted laptop. So, I'm once again writing today's post fairly quickly during an interval in which I have access to the internet outside of my phone. Which is a shame because I've wanted to see this film for ages. The Julian Barnes novel it was adapted from sat on my bookshelf, unread, for years. As winners of the Man Booker Prize go, it's a pretty small book but I just couldn't bring myself to read it. Until a few years ago when I did and promptly realised that I probably should have waited for a bit longer. It was a great book, don't get me wrong, but I think it deserved a better reader. It was one of those books that really takes you to the heart of a character and explore's the idea that our individual history's will always be, in some respects, unreliable. I definitely want to read it again because Barnes is a great writer and it's such a complex but readable story. So, when I discovered it was being turned into a film starring the fabulous Jim Broadbent I knew it was going to be a must see for this year.
The other week, as I was going to sleep, it suddenly crossed my mind that, one day, Judi Dench is going to die. I mean it's an inevitability but it was an incredibly sad thought that kept me up a good few hours. I never really thought of myself as being terribly attached to Judi Dench but this nighttime realisation really hit me. She's both a brilliant actor and, from what I can tell, an incredibly lovely human being. I try not to get too caught up in the social media frenzy of melodrama when news hits of a the death of a famous person but I would be genuinely saddened by this. I only mention this because, upon watching The Sense of an Ending, I felt the very same thing about Jim Broadbent. He's the kind of actor that turns up in things that you wouldn't really expect and, as such, has probably been a big part of my cultural upbringing. Having the ability to turn his hand to anything has meant he has been seen in some of my favourite films and television series. Without wishing to sound like an absolute dickhead, a world without Jim Broadbent would be a sadder one.
It is Broadbent, after all, that makes the film adaptation of The Sense of an Ending so compelling to watch. As is often the case with book to film manoeuvres, there is a lot that has been lost in translation. The film really only scrapes the surface of the novel and neatens everything off into a pleasant Hollywood ending. It never quite reaches the dizzying heights that Barnes managed to. Yet, thanks to Broadbent's turn as Tony Webster, the film is perfectly watchable and quite enjoyable. The role is ideal for the actor and he gets to play every old man stereotype perfectly whilst also exploring the deeper history that is hidden away. This isn't the jolly old gent that has become the Broadbent staple of the past few years. Tony is a curmudgeonly man who tends to put his own interests first. He's a little pompous and rude but has a deep love for his daughter (Michelle Dockery) and ex-wife (Harriet Walter). He is content to live his life as he always has until a blast from his past forces him to review his version of history.
When the mother of his first love dies she leaves him something in her will. Whilst this is confusing enough, matters are further complicated when his ex-girlfriend (Charlotte Rampling) refuses to hand over the diary. It was written by Tony's best friend from school Adrian (Joe Alwyn) who committed suicide whilst he was at university. Adrian, Tony and Veronica had been part of a love triangle of sorts after Tony introduced his friend to his lover. Instead of reacting in the understanding way that he'd always allowed himself to remember, Veronica reintroduces Tony to the awful truth regarding the end of their friendship. A venomous letter, written in the heat of the moment, not only destroyed the relationship of the young men but set about a series of events that had a monumental affect on many people's lives. Tony must come face-to-face with this truth and, as a result, come to terms with the man he really is.
The Sense of an Ending is, at its most basic, a story about how history is recorded. We are told history is written by the victors to highlight their heroism but, by that same token, it must also be written by the bad guys who wish to diminish their role in proceedings. Once Veronica comes back into his life Tony comes to understand that the good guy he thought he was was merely a whitewashed version he allowed himself to remember. I really enjoyed this film but I was a fan of the book. It isn't the greatest of adaptations so I can see that some people might not see the appeal. The narrative that takes us back to Tony and Adrian's youth are wonderful and vivacious scenes that work well with the slower insights into contemporary London. Full of their references to Dylan Thomas and a youthful hunger to learn and impress people with their knowledge. However, as the film plods on the message wears a little thinner and the final reveal doesn't quite have the same impact as the book. It all feels a little flat by the end.
That's not to say that it isn't perfectly enjoyable in its own right. Jim Broadbent and co are all remarkable in their roles and bring the complexity of each relationship to light. The story has its absorbing moments and themes that really resonate through the whole narrative. However, for a film all about first love there is a lack of passion on show. It's as is the film didn't really know what ending it was supposed to be showcasing and everything got a bit muddled. There is a sense of a grandeur here that only a film adapted from such a critically acclaimed novel really has. It never allows itself to ease into the story or the characters and is constantly aware of everything it has to do. It's a shame because, really, the performances are all rather enjoyable and Broadbent carries the whole thing off remarkably.