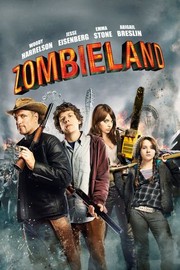 On Sunday the new series of Top Gear started and, without getting into my feelings on the new format, I was glad to see Jesse Eisenberg as the star guest. Despite how awful his interviews inevitably are, I love Eisenberg and thought he was super funny when faced with Chris Evans and Gordon Ramsay. Eisenberg has made a career out of playing the awkward, geeky loner and it is something that filters out into his personal appearances. Something that has made him seem stand-offish and rude. Still, I count Eisenberg as one of my favourite actors and am convinced that, when I eventually see it, he'll be my favourite thing about Batman vs Superman. Although, I'm still not ready to see just how bad that film is yet so I decided to revisit classic Eisenberg.
Zombieland picks up the thread laid down by Simon Pegg and Edgar Wright with Shaun of the Dead: taking a comic approach to Zombie apocalypses. Hollywood had become so saturated with Zombie films that people needed to take a different approach. Zombieland is less of a Zombie-horror film than it is a romantic-comedy that happens to contain the walking dead. It doesn't proclaim to be scary or chilling but it does have an unashamedly jolly good time. Something I think allows it to trump the earlier British work. I know I know. It's unpatriotic or something but Shaun of the Dead gets so bogged down in parody that it never lets itself go quite as much as this film.
This is all about the four actors having fun with guns, zombies and theme parks. In fact, Zombieland has more in common with another Eisenberg film, Adventureland, than it does with Night of the Living Dead. Eisenberg plays an unnamed man who, by strictly adhering to his own set of rules, survives alone in a world riddled with zombies. After a chance encounter with a fellow unnamed survivor (Woody Harrelson), the pair join up and make their way across the country to find some sort of life.
The two men are set up by two sisters (Emma Stone and Abigail Breslin) and lose their car, guns and supplies. Thankfully, there are plenty of abandoned cars around and the boys are quickly pursuing the sisters. After a few ups and downs, the group join together and make their way to Pacific Playland, an amusement park in Los Angeles. The four begin to bond with each other and find that being alone in an undead world isn't all it's cracked up to be.
Zombieland doesn't really make much of the whole zombie thing which, for someone who has grown so tired of the z-word, I'm thankful for. This isn't about watching scared people running from weird looking dead people. This is about four people having fun whilst also fighting for their lives. There are way more jokes here than there are frights but it is something that it gets so right. The script is strong and the jokes are on point. It's a wacky film that gets away with some absurd ideas but they all work. Much has been made of Billy fucking Murray's cameo and it is certainly one of the films greatest moments featuring some great work by Murray and Woody Harrelson.
In fact, Harrelson's role is the stand-out of the entire thing. His crazed zombie killer is deadly, skilled and, when he wants to be, emotional. His one-man assault against a mass of zombies during the films final act is just mesmerising. Compared to Harrelson's brash character, the rest of the cast do, sort of, fade into the backgroud. Not that the cast don't do a good job but they have more traditional roles than Harrelson. Eisenberg and Stone are once again cast in their traditional roles of geeky loner and the independent, strong woman respectively. They do it well but we've been here time and time again. Their frosty relationship will quickly thaw and the pair will be locking lips well before the credits roll.
Zombieland doesn't succeed by being completely original or new. It works because everything it does is done with enough humour. It doesn't take itself as seriously as Shaun of the Dead did and is even more willing than its predecessor to drop some pop culture knowledge whenever it can. Zombieland is fun and that's what counts. It breaths life into a long dead genre and, thanks to a cast that gels really well, manages to feel fresh.