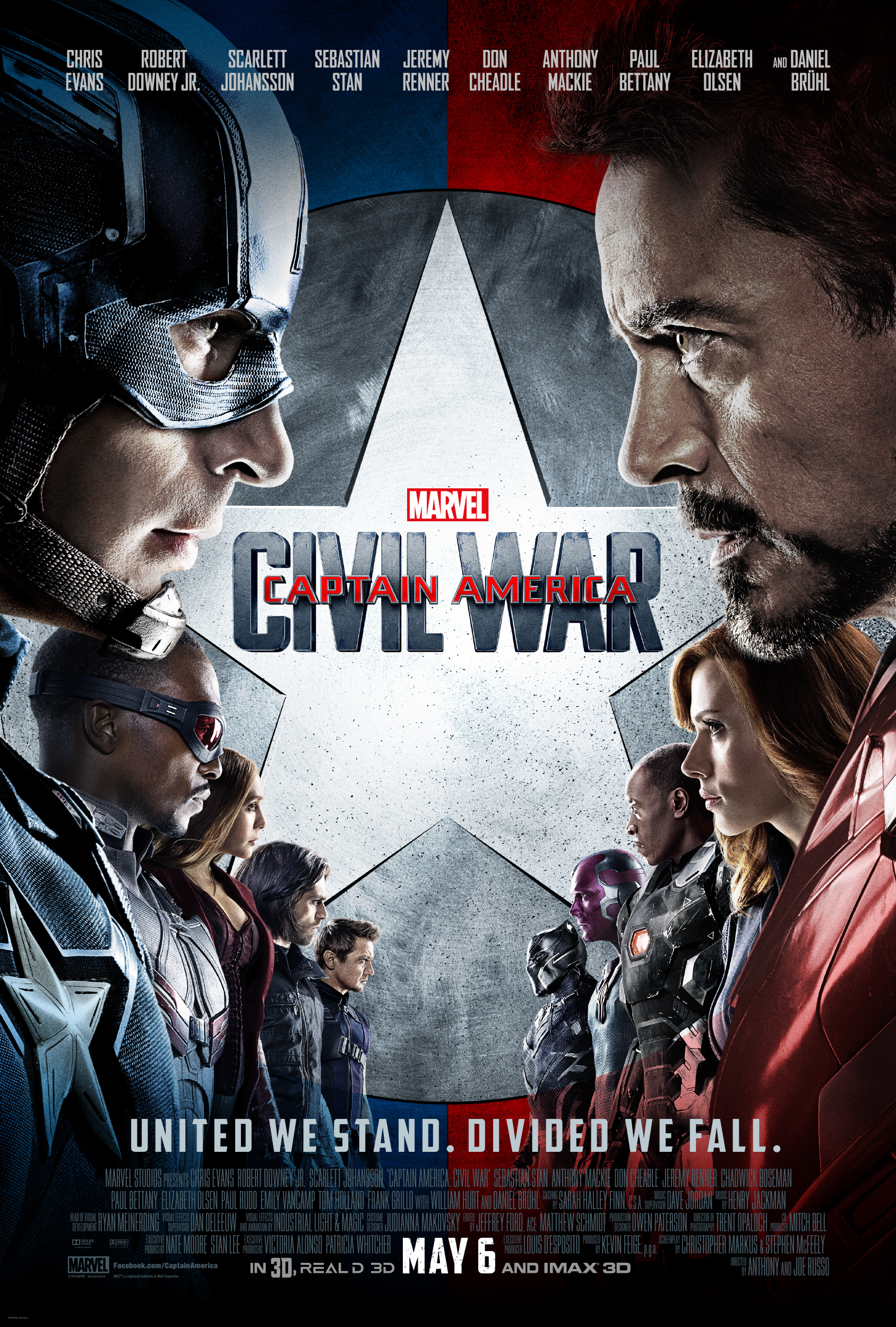 There was plenty of ridiculous drama that went into me finally getting to see the third film in the Captain America trilogy that I'm loathe to bring up. However, I have no other way to introduce my new topic so I'm going to retell the whole petty tale. I have a friend whom I love unconditionally but she's a huge fucking drama queen. She's recently got into a new relationship and is, obviously, all about spending her time with her new boyfriend. As such, she's difficult to tie down for cinema trips. I'd promised her I'd watch this film with her because her new man isn't much of a film lover and hates comic book movies. Problem is, she won't commit to a date because she doesn't know when he's free. Considering how desperate I was to see this film I got understandably annoyed about her unwillingness to pick a date. Not a problem you might think, I can go without her. Unfortunately, if she ever got wind of the fact that I was contemplating going with someone else then she'd start thinking I'd replaced her with someone else. You see, fucking drama! At 28 I really don't have time for that school playground bff bullshit so I'm incredibly unsympathetic about the whole thing. Which is exactly why I snuck off to the cinema with a mutual friend behind her back and why I'll never tell her I've seen it. I love my friends to the ends of the Earth but nobody keeps me from the MCU.
Marvel films seems to understand Captain America more than any of its other heroes. He's the only hero who's sequel was better than the first and is the only one that has the strongest overarching narrative. These films are built on the friendship between Steve and Bucky and it is Cap's struggle to save his best friend that has made these films worth watching. Civil War marks the culmination of everything Captain America and Winter Soldier have been preparing us for. I love you Peggy but we all know that Steve's real OTP is James Barnes.
Civil War pretty much picks up after the events of Age of Ultron where the new Avengers are on a mission in Lagos to prevent Crossbones high-tailing it out of town with a vial of some deadly disease. In the drama Scarlet Witch (Elizabeth Olsen) inadvertently creates chaos trying to stop Captain American (Chris Evans) being blown up. As this is just the latest in a long line of destruction for the super team politicians of the World unite and attempt to restrict the movements of Earth's heroes. Unfortunately, the pals don't all agree to the Sokovia Accords, named after the country that suffered during the battle with Ultron.
Cap disagrees with government control and refuses to sign the accords, something that Iron Man, Tony Stark (Robert Downey Jr.) has an issue with. Cap and his ever loyal sidekick , Falcon (Anthony Mackie) are told to hand in their guns and badge and leave the super life behind. Unforunately, that is exactly the same time that a bomb explodes at the UN causing the death of the King of Wakanda supposedly by the Winter Soldier (Sebastian Stan) himself. Captain goes against the government to find his friend first and discovers that Bucky has been set up.
This starts an increasingly ridiculous situation that pits superhero against superhero to either protect or capture dear old Buck. Both Iron Man and Captain America have their followers who are fighting for various and, quite often, flimsy reasons but, provided we see a massive punch-up, I guess it doesn't matter. Team Cap includes: Bucky; Flacon; Scarlet Witch; Hawkeye (Jeremy Renner); Ant Man (Paul Rudd); and ex-shield agent Sharon Carter. Team Iron Man is made up of: Black Widow (Scarlett Johansson); War Machine (Don Cheadle); Vision (Paul Bettany); and the mysterious Black Panther (Chadwick Boseman). I have an issue with the need for people to take sides but I can't deny it creates quite a spectacle. The airport showdown is, quite possibly, the greatest scene in the MCU so far.
Captain America: Civil War makes me feel quite conflicted if I'm honest. I totally enjoyed it and the fan girl in me squeed for the full 3000 hour run. However, I felt like it was trying to do too much to the extent that things weren't as good as they could have been. The airport battle was fucking intense but getting there was difficult and never felt like the logical end to the events on screen. It was never explained in such a way that didn't make it all feel like a massive stretch. Motivations aren't clear and most of the choices just don't make sense for the characters we know and love. I mean I still have no fucking clue why Hawkeye is even fighting. Didn't he retire? Why does he give a shit?
Plus, there was the desire to introduce so many recurring and new characters that it seemed a bit messy and bloated. It's a long film and there were time when it felt like it was dragging. Although, I don't really know what I'd want to lose because Spider Man and Black Panther were two of the best things about the whole thing and I'm super excited about their solo outings. I just wish the whole thing about the Sokovia Accords had had been cut out and it came down to a fight centred on Cap and Bucky's friendship. I mean that's essentially what the trilogy has been all about and is the only real reason that Steve would turn his back on his fellow Avengers. The government twist just made things messier.
Still, this was the film that Avengers 2 should have been. It was a great meeting of so many characters and was funny, dark and emotional. The actors all did a great job. Paul Rudd managed to be funny during the most intense moments and Tom Holland looks set to be a great Peter Parker. Robert Downey Jr. and Chris Evans manage to play their familiar roles with added depth as both Tony and Steve find themselves going down dark paths due to recent events. Tony's continued declining mental state is both devastating and fantastic to watch. In terms of the characters coming together Civil War gets it right and it feels like it makes amends for the sequel to The Avengers.
However, it tries to do too much and include too much. The overall big baddie is pretty unnecessary and there are a few plot twists that I think we could have done without. Still, despite all of my natural criticisms, I couldn't help but love this film. It shows that Phase 3 is going to be wild. Thanks to the plot looking at the consequences of extreme power, it shows that we are moving into more grown-up territory and a more mature MCU in the future. It explores some great ideas and, at the end of the day, gives the audience what it wanted from this story. Super heroes beating the shit out of each other. And, if I'm honest, it fucking rocked.